| | |
| --- | --- |
| Posted on November 1, 2011 at 7:50 AM | |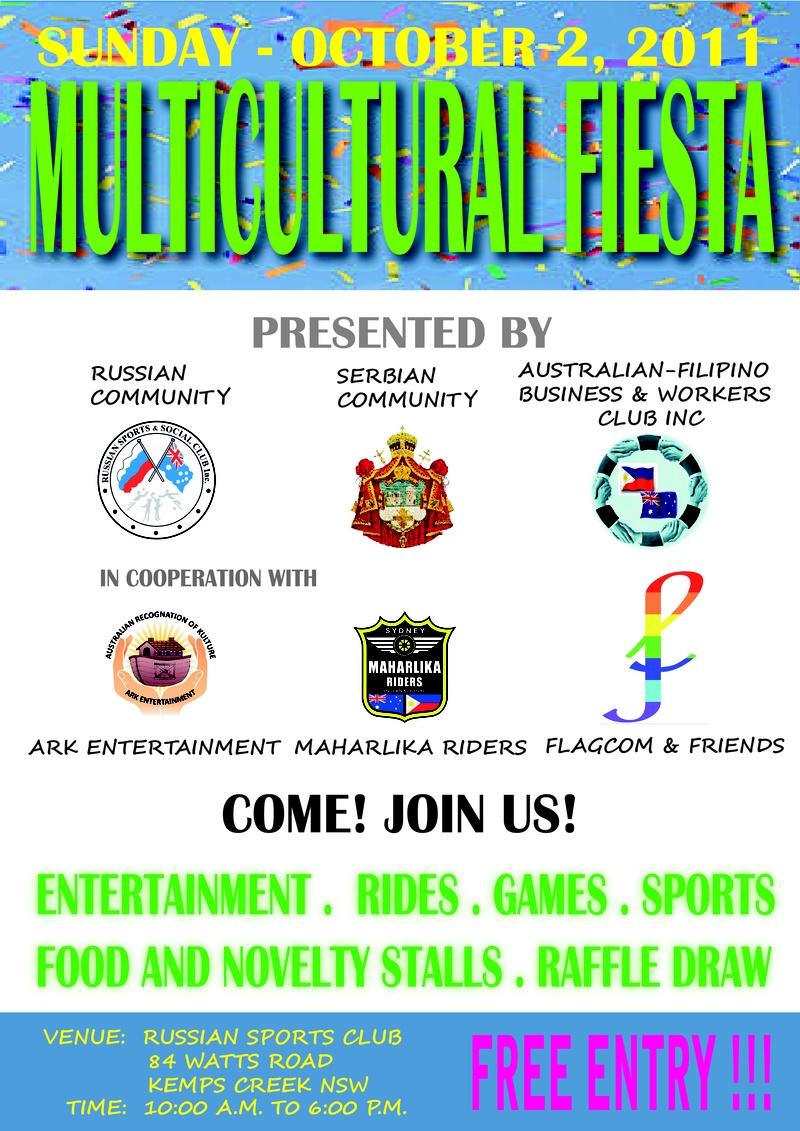 Warm Reception for Multicultural Fiesta Despite Wet & Cold Weather       By: Marie Rea
A joint multicultural fiesta featuring the culture and traditions of the Russian, Serbian and Filipino Australian communities was successfully held at the Russian Club in Kemps Creek southwest of Sydney last 2nd of October 2011. The event had a warm reception from the public who trooped to 84 Watts Road in Kemps Creek despite the rainy and cold weather. Fortunately, the activities were mostly indoors in the impressive building, which was established by the Russian community under its leader Con Tonkikh. Participants were treated to a variety of stalls showcasing Russian, Serbian and  Filipino Australian food and delicacies as well as colourful traditional costumes from both the young and older members of the community.
According to Raquel Pellero, Secretary and Event Coordinator (AFBWCI) her organisation took part in the fiesta which showcased traditional Russian and Serbian dance, music, food and arts and crafts. There were multicultural presentations and entertaining numbers featuring the ethnic groups' folk dances and music. President of AFBWCI, Ariel Satorre gave the welcome speech while representatives from the Russian community helped host the program alternatively with duo Albert Prias and Charles Chan from the Flagcom and friends group, another Filipino-Australian social organisation involved in the fiesta. The list of performances included the following: Srpski splet-Dances from various regions, Igre iz Levca-Dances from central Serbia, Setnja I Kraljevo kolo, Igre iz juzne Srbije (Nis I Leskovac)- Dances from South-East Serbia, Gupsy Dance and Serbian national dance. Elise, a young girl in her traditional black and red dress played the accordion too. The Russian community presented a number from its Choir conducted by Elena Metleko, Elene Kravchenko's Creative collective dance"Kalinka," Ukraine dance and Flower, Dvoika and Barinya Russian souvenir dances.
From the Filipinos, Albert Prias, Clarissa Bock,Oz Myxx guitarist Clarence Fiala and Sydney Perez contributed musical numbers. Nick Meissner played a classic tango number in his harmonica. Event participants enjoyed traditional Russian delicacies like Russian beetroot salad, pastries with cabbage, meat pie dishes and cakes like the famous "Mikado" a layered cake with cream and honey. A surprise presentation was well received, a demonstration of a Russian form of martial arts and combat sport called "sambo." Raffle tickets were drawn by Con Tonkikh assisted by Serbian representative Maja Zunzara and AFBWCI's Ms Pellero & Mr. Satorre. A television set, video recorder and other items were some of the prizes.